Welcome to the new Elks Call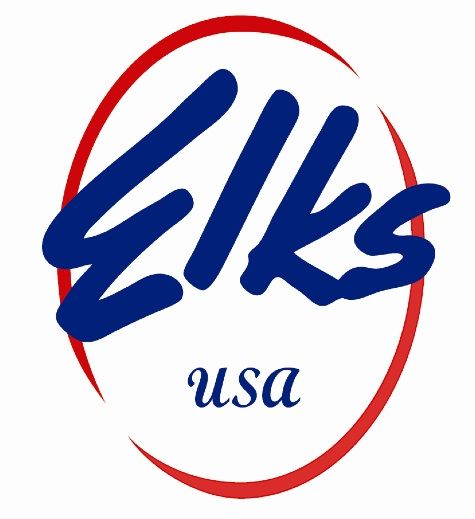 September 2022
---
A message from our Exalted Ruler

When the Lodge is in need, we have wonderful members that step up to get it done. I'd like to thank those members.
Our bowling alleys needed great attention and, in a few weeks, will have a new look through donations made by Michael Greenblatt and the hard work and time given by Conrad Gast, Jack Gingrich, Dave Harzinski, Neal Heisey, Jesse Hudock, Albert Knepp, and Craig Rhineer.
Thanks to donations made by Butch and Liz Johns, John and Darcy Show, and funds from the pocketbook bingo organized by Sallie Rhineer, the 2nd floor women's restroom was completed and although we stalled a bit, work has started on the women's restroom on the first floor. Thanks to Jack Gingrich, Dave Harzinski, and Albert Knapp the wallpaper was striped and prep work begun. Ladies, please excuse our mess. I'm sure you will be pleased with the efforts of these volunteers.
If any of our new members would like to volunteer their talents to improve on our Lodge, please reach out to me or one of our Lodge officers, we will be happy to point you in the right direction.

Eddie R Huertas, PER
Exalted Ruler 2022-2023
---
💡
We want to give a HUGE thank you to Nate Bomberger for helping us set up our new system!
---
Lodge Hours:
MON– 4pm-9pm
TUE– 11am-10pm
WED– 11am-10pm
THR– 11am-10pm
FRI– 11am-10pm
SAT– 9a-midnight
SUN– Noon-6pm

Kitchen Hours:
MON– CLOSED
TUE– 12pm-2pm, 5pm-8pm
WED– 12pm-2pm, 5pm-8pm
THR– 12pm-2pm, CLOSED
FRI– 12pm-2pm, 5pm-9pm
SAT– 9am-12pm, 5pm-9pm
SUN– CLOSED
---
August New Members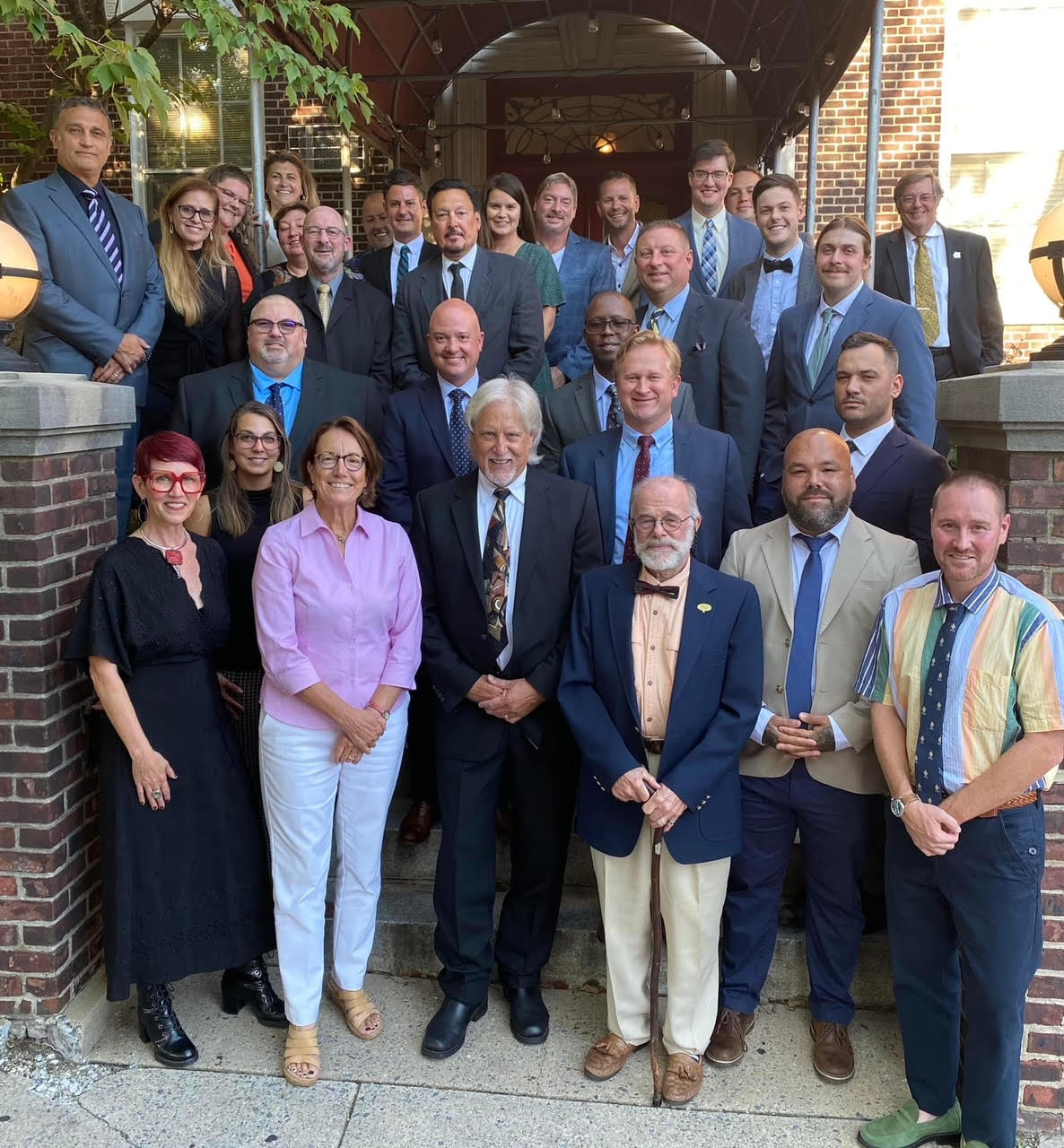 Elks Bus Trip (click to open for more information)
They are going to 8 Elks Lodges: Deptford, Galloway, Brigantine, Egg Harbor Township, N. Wildwood, Greater Cape May, Millville & Clayton. Also, time in Cape May.
Lancaster pick-up is the old AC Moore in Lancaster Shopping Center (Oregon Pike side) to board bus at 10am on 9/30/22. Bus will be approximately back at 7:30/8pm on 10/2/22. Here is the rundown of pricing for the weekend getaway.
The following prices include:
—deluxe motor coach & driver's gratuity
—hotel room (continental breakfast, mini fridge, microwave)
—hospitality suite in hotel with drinks & snacks for the weekend
—lunch on bus on Friday & drinks & snacks on the bus for the weekend Double room (2 double beds) $290 a person if only 2 are occupying the room King size bed in smoking or non-smoking $275 a person
Deluxe King Suite (hot tub) $330 a person $75 deposit required to reserve your seat (Non-refundable if canceled 30 days before the trip)
Deadline to sign up is 8/29 at these prices. Anything after will have a $25 late fee added per person. Please contact, 717-617-8803 or cruisinwithchristina19@gmail.com to sign up for payment arrangements or for any questions.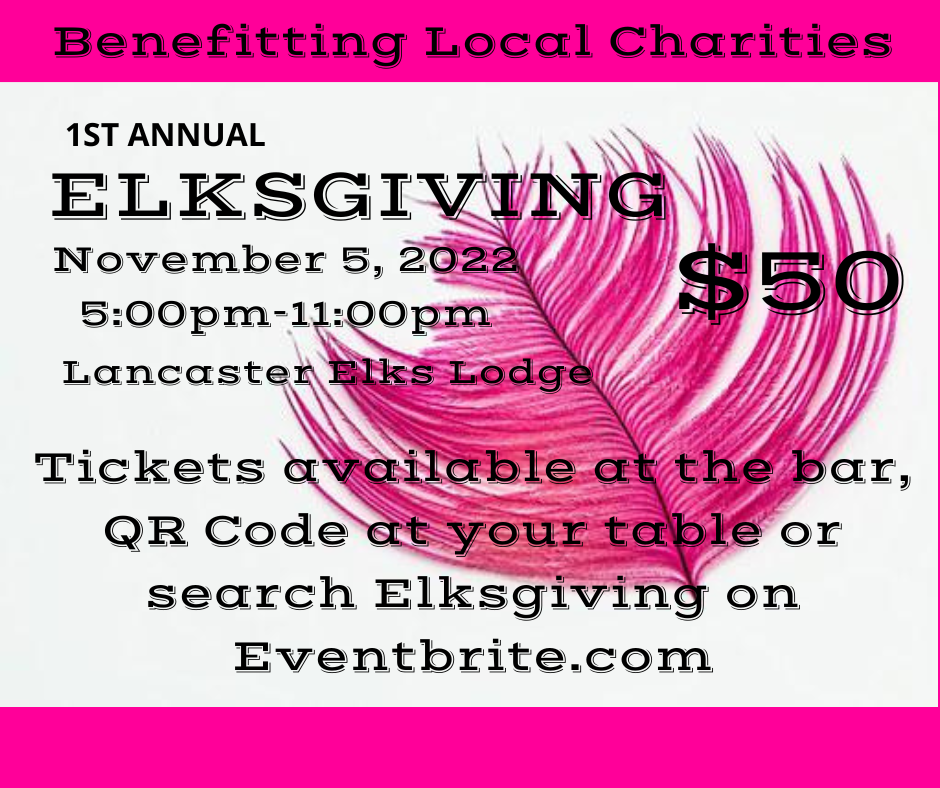 New Lodge Contact Information
News.elks@gmail.com
Elksmembership134@gmail.com
September Birthdays
Brett Leayman, Darlene Welsh
Thomas Getz, Lan Hong
Daniel Scrobe, Michael Willig
Margaret Flick, Jeremiah Hamilton, Heidi Steinle
Scott Berlucchi
Nicolette Graybeal
Thomas Jackson, Keith Kehr, Timothy Leisey, Tara Marshall
Michael Greenblatt, Steve Heisey
Charles Fulton Jr., William Lenox, Kelly Shenk
George Grove
Michael Branner, Donald Markley
Scott Cover, Donald Rhoads Jr.
Liam Benson, Elizabeth Kenyon, Patricia Kinsman, Randy Martin, Julie Slack
James Bivona-Eaton, Samuel Fulginiti
.
Mark Evans, Kyle McWilliams
Adam Bonholtzer
David Diffenbaugh, Paul Elliot, Lee Rossman
Chuck Honabach, Chelsea Spence
Justin Ang
.
.
.
Haley Bream, Carla Good, Fernando Martin, Joseph Pennington
Chris Clugston, Sherry Harry, David Miller, Neil Peterson, Sallie Rhineer
Dennis Dougherty, Terry Zerphey
Kory Wardrop, Doug Zecher
Anne Marks
Steven Roy, John Show
Thomas Biemesderfer, Bernard Grimm, David Wetzel
Lodge Officers
Exalted Ruler: Eddie Huertas, PER
Leading Knight: Melissa Uhle
Loyal Knight: David Harzinski
Lecturing Knight: Jennifer Chapman
Esquire: Butch Johns, PER
Treasurer: Kyle Moore
Secretary: Rick Laliberte
Inner Guard: Bob Brader
Tiler: Doug Charles
Chaplain: James Beck
Trustee Chair: Jesse Hudock
Trustees: Conrad Gast, Neil Heisey, Craig Rhineer, Terrance Warco