Lodge History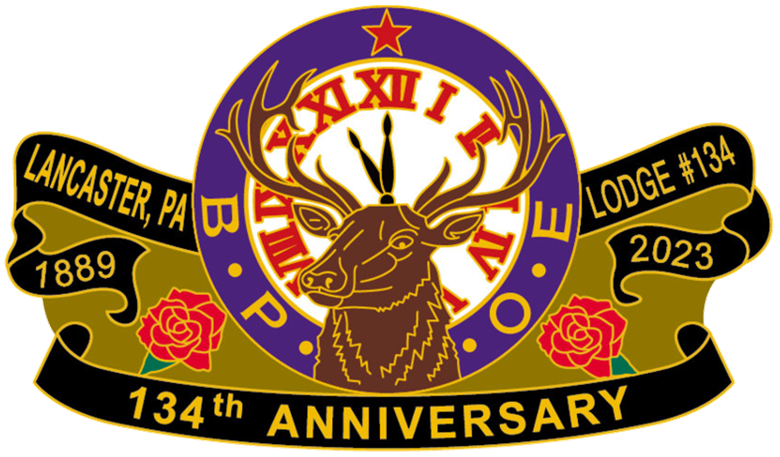 Brief History of Elks Lodge #134 1889 to 2023
Celebrating 134 years of Lancaster Lodge #134
Elks Lodges bring so much more to their communities than just a building, golf course or pool. They are places where neighbors come together, families share meals, and children grow up. Elks invest in their communities through programs that help children grow up healthy and drug-free, by undertaking projects that address unmet need, and by honoring the service and sacrifice of our veterans.
The Lancaster Lodge has risen from humble beginnings in 1889 with 24 members in modest surroundings to an over 850-member strong organization in a beautiful historic building. The Lancaster Elks was founded by a group of men who wished to exchange their horns for antlers. It is not known precisely why the 24 men of the Lancaster Buffalo Club felt it was time to broaden their field of endeavor and seek affiliation with the national organization which is the Order of Elks.
The Lodge has worked diligently to assist the youth of our community through its many programs of golf, hoop shoot, soccer shoot, football, baseball, youth trips to national memorials, scholarships and drug and alcohol awareness. The Elks believe that today's youth given the proper tools and motivation will be the leaders of our community and the Elks of tomorrow.
The local Lodge does its patriotic duty during wars by assisting in recruiting for the U. S. Navy and Army Air Corps as well as providing comfort for troops overseas and home on leave.
Over the years the Lodge has, in addition to its service to youth, provided funds to the Elks National Foundation, the Elks Home Services program, the Salvation Army, non-interest bearing student loans, Christmas baskets, and donations and time to such organizations as Melagro House, under privileged children's Christmas parties and many more. The Lodge has donated over $4.3 Million dollars to our local community since our inception.
The Lodge purchased the Landis property on North Duke Street in 1903 and put a large addition on the home to include a Lodge Hall.  It is believed that the three-story house was built about 1848. The building next door, which is now our dining area was built as a home in the 1870's. In 1932 the buildings were remodeled and joined creating the current grille room. In 1966 the Lodge was again remodeled and expanded.
On the fun side, the Lodge is noted for its many years of championship performances of its nationally recognized drill team, its many expert bowlers in duck pin bowling and pool shooters on championship tables. Today the Lodge provides bowling, pool, darts, shuffleboard, cards and many other social activities. It also provides for many family activities and of course its appeal to casual relaxed cocktails and dining. It is a great place to bring colleagues for lunch dinner or for those very special private parties.
The Lancaster Elks Lodge has been a gathering place for 134 years and looks forward to the next one hundred as the place to meet, greet, and serve the community.