The Elks at work in the Community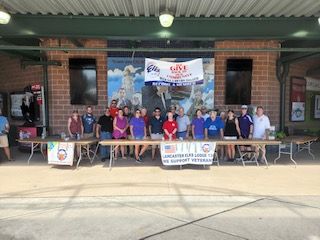 On Sunday August 7, Lodge volunteers gathered at Clipper Stadium to hand out over 1500 back packs for the 11th Annual Mike Sturla's Back to School Event! It was a great day full of fun and SO MANY KIDS!! Lancaster Elks Lodge 134 donated $10,500 through ENF grants and Lodge donations.  THANK YOU to our members who volunteered!
Pictured, Jen Chapman, Kyle Moore, Eddie Huertas E.R, Dave Harzinski, Anne Witkonis, Ron Reese, Chris Harzinski, Brad Singer, Jen Koenig, Jeremiah Hamilton, Kyle McWilliams, Scott Madison, Chuck McWilliams, Tara Marshall, Carlos Castano, Rep Mike Sturla, Liz Johns, Kathy Wetzel, Ray Wilkinson, Butch Johns. Not pictured is Andy Strevig & his grandson Jake, Dave Wetzel and Craig Kazda.
The Youth Committee is in the planning phases of fun activities for Halloween & Christmas!  If you'd like to be involved, email Chair Jen Chapman at chapman.jen@hotmail.com - we'd love to have you!
Have you done any of the Coloring Books or played any of the Board Games (located near the Fuse Ball table) with your kids?  Which one(s) is your favorite? Are there any you'd like added?
Jen Chapman
Youth Committee Chair